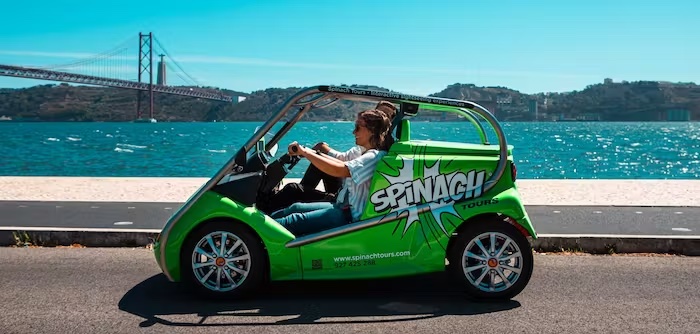 Spinach Tours
Welcome aboard Spinach Tours, where sightseeing is taken to the next level. Spinach's eco-friendly talking car will guide you through the city with witty commentary, insider knowledge, and a unique sense of humor. From hidden gems to famous landmarks, Spinach's tours cover it all, and you'll never be bored as the car keeps the banter going the whole way through.
Spinach Tours presents an augmented sightseeing experience that turns the city into an amusement park. Powered by state-of-the-art technology, your Spinach car describes what you're seeing in an entertaining and interactive way, allowing you to experience city sightseeing in a relaxed and personalized manner.
When you book a Spinach sightseeing tour, you'll be able to pick your preferred places to visit. There's no other car that allows for a 360º view like ours do! If you just want to drive around and feel the full electric power, you're also free to do it!
You just need to be over 18 years old and have a driver's license to experience everything Spinach Tours has to offer: bring your friends and have real fun while driving a fun ecological convertible that will turn you into a star! We guarantee, heads will turn in your direction while you roam around, learn, and play.
Make your world Spin(ach)
Your discount
20% off tours in Lisbon
To access this benefit, you must show your ISIC card at the benefit location as proof of your academic status before you make your purchase.
Gallery
Location