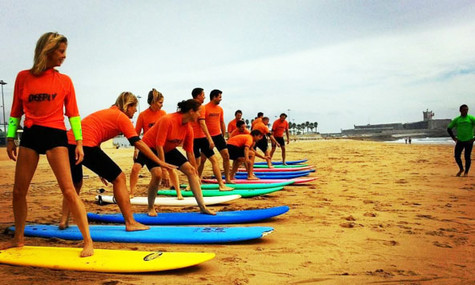 Carcavelos Surf School
The surf lessons of the Carcavelos Surf School offer you a close and professional follow-up since your first class to the advanced level.
Learn to slide into the waves, where the adventure and thrill - always safe - are the main ingredients of this sport. Classes are given to small groups by an accredited teacher available to teach you the techniques to balance the plank and catch the best waves. The Carcavelos Surf School is the first school of surf on the beach of Carcavelos, Lisbon. The school is certified by the Portuguese Federation of Surf and by Tourism of Portugal. The School aims to teach the art of surfing the waves in a safe, relaxed and always under the close supervision of teachers and attentive. Thousands of people have learned in the Carcavelos Surf School to slide on the wall of the wave on a surfboard. Carcavelos Surf School has facilities that allow students to equip and to keep their possessions safe and at the end of class have at your disposal an outdoor shower. The school has a wide variety of secure (softboards) boards and wetsuits for teach you safe and enjoyable.

Your Discount
10€ off surf lessons (pay 15€ per lesson instead of 25€)
To access this benefit, you must show your ISIC card at the benefit location as proof of your academic status before you make your purchase.
Gallery
Location