ISIC OK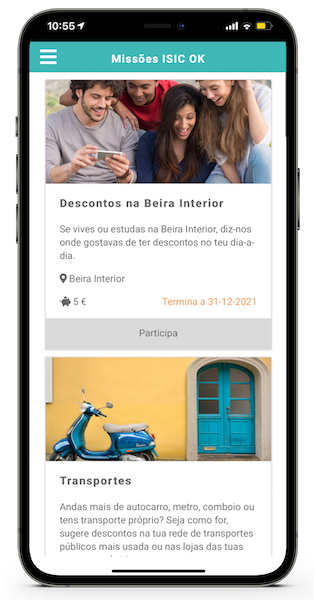 ISIC OK, the app that makes you a double winner.
Suggest benefits for your ISIC card and earn money completing missions.
How does it work? ISIC gives you missions and all you have to do is participate! There's no limit to how much you can earn with the ISIC OK app. It all depends on how many missions you can complete, each mission has its value.
The missions can be, for example, find:
technology stores near your school;
florists for Valentine's day;
restaurants in your city;
among other options.
You just need to be aware of the available missions, participate with the benefits that you want more and accumulate credit rewards. Whenever you reach €10, you can ask ISIC to pay you by bank transfer.
Besides participating in missions, you can also access thousands of ISIC discounts through the application, in the form of a list or on a map.
Download the app and start earning money
Haven't got an ISIC?

---
ISIC Global App

Connecting you to a world of student discounts

Discover thousands of ISIC discounts and offers worldwide
Create your personal list of your favourites for easy future reference
Verify your student status and redeem offers instantly with your virtual ISIC card
Browse and filter discounts at the location of your choice and find them on the map
Filter and sort offers by category
Supports multiple languages
This app has been created for the student community! Tell us what you like, dislike and need for future releases via this feedback form. We value and need your feedback to give you the best mobile experience out there.
Download the app now - it's free
Haven't got an ISIC?