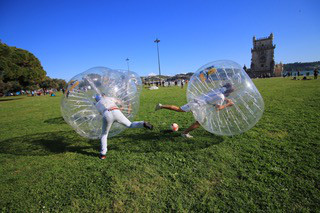 Beat Balls
Why Play Bubble Football?
Have you thought of playing a football game with no faults nor worries? Then Bubble Football is the answer! Forget about and red cards. Inside the bumpers, your only concern should be to run fast, (try) to kick the ball and bump into your friends!
A Different Type of Game
Tired of the same old football matches with your friends every week? WOuld you like to have an unforgettable birthday party? Grab your friends and come try Bubble Football with Beat Balls! With so many laughs and "stunts" with the bumpers, you will even forget to count the goals!

Flexibility
Beat Balls offers you a diverse variety of fields, so you can choose the one that is closer to you. With indoor and indoor fields, there is no excuse to spend your birthday party, stag party or football match without Beat Balls!

Customisation
We let you think outside the box. Would you like to play Bubble Football on your own house or on that special location only you know? Are you organizing an event or a birthday party and want it to become memorable?
Beat Balls goes wherever you are!

Your Discount
10% off all Beat Balls Activities
To access this benefit, you must show your ISIC card at the benefit location as proof of your academic status before you make your purchase.
Gallery
Location